Top 5 Dining Room Furniture ideas
You want to enjoy in favorable meals with your partner, or family. In addition to delicious food you want to have pleasant atmosphere which helps you to relax, to enjoy in comfort and dining time with people you love. If you are a person who appreciate quality time spent during everyday meals and also grades a good style, than this article is for you. We tried to have a comprehensive look over dining room furniture ideas and we single out five of them, which are proved to be the best. We hope that everybody should find something in this list that can be used or liked.
1. Vintage dining room furniture
If you are a lover of history and glamorous style which you might have found among royal families and among nobility than you would like this kind of idea for dining room furniture. Just choose the period you like and you will enjoy in beautiful comfort which comes from distant past. Designers who value class and elegance gave you the possibility to choose the most preferable combinations of furniture, which are characterize by vintage style.
Natural wood floors, plan or floral fabrics, white window curtains, and different natural materials are great to be used for this kind of dining room. Natural home fabrics and light colors are very represented by lovers of vintage style. On market, you should find a wide range of vintage chandeliers which are going to be perfect for your vintage dining room. If you have some modern furniture, you should be glad because it will go perfectly in combination with vintage items. This will give your room retro style.
You can choose elegant dining chairs made of wood with delicate carvings. Color that is perfect for this kind of dining chairs is grey. Delicate carvings should be highlighted with light slate and with lots of distress. Elegant cream burlap should be used for upholster. With this kind of chairs ideal would be massive wooden table also in grey color. Delicate carvings should also be present.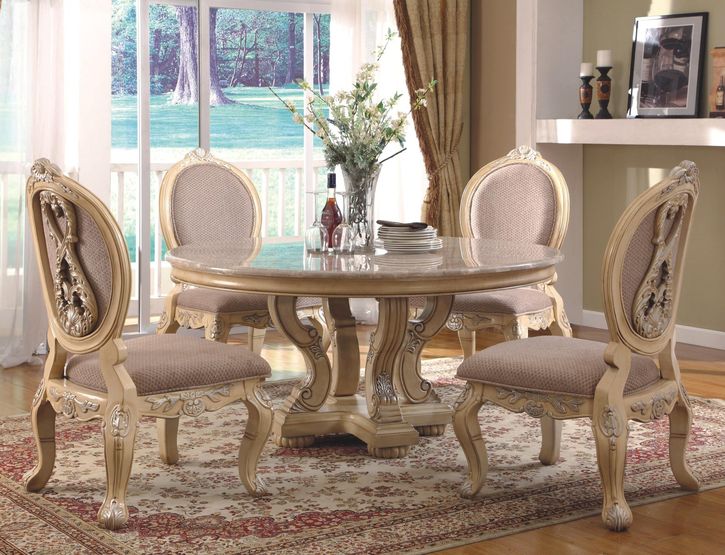 So, you will not make a mistake if you pike up wooden chairs and table with bright color design. If you want to brighten up the look of your dining room, than you should choose some floral decoration.
2. Modern colorful dining room furniture
If you are devoted to vibrant colors, and modern style, then you should think about complementing colors. Color schemas that are monochromatic can look fabulous if they are wrapped in a proper way. You can create great contrast using your dining tables, lamp shades and window curtains.
You can easily combine purple and green color. For example, purple dining chairs in a shape of tulip with metal legs would be a perfect choice. White round shape table and small piece of green fabric underneath the table and chair would be an excellent combination. Wood can be perfectly blended in this kind of combination for example, wooden floor and wooden shelves.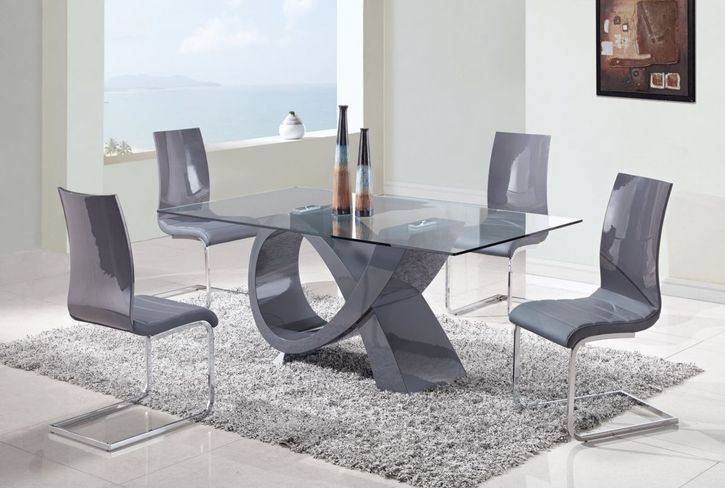 3. Luxury dining furniture
Well, this part is for lovers of luxury. If it is important for you to enjoy in luxurious pieces of furniture, then you should probably think of your dining room like another place for your delight.
If you love neutral colors, then you should think about neutral fabrics covers. Excellent combination of colors is a combination of white and black. Modern dining chairs could be in white color with a metal geometrical shaped legs. In this dining set black marble table covered whit glass should be perfect. It should be massive and in a shape of rectangle. It would be perfect to place this set beside the window with white long curtains. White walls and pieces of furniture in white and black color, with domination of bright colors are perfect for this kind of luxury style.


4. Traditional style
If you are family oriented and traditional then you should consider getting something in that style. For this type of dining room sets, round tables are usually used and wooden style is most present. It allows everybody to pass food around and everybody are faced to one another so they can feel more social. There is another plus to this kind of tables. You can always add one or two more chairs if you have some extra guests. All in all, if you have a round table you will have great equalizer.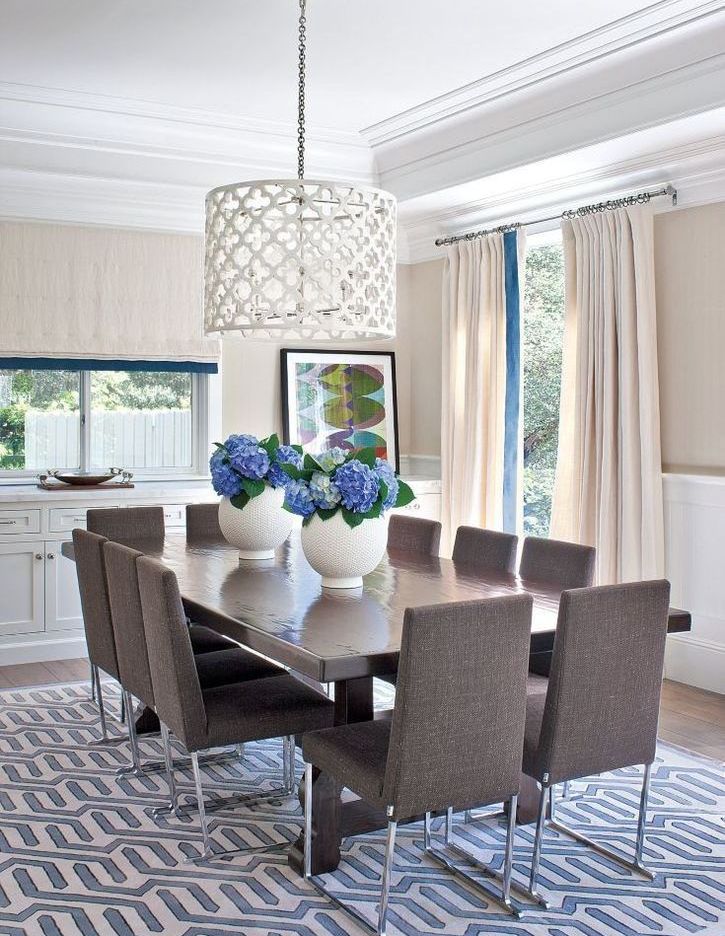 5. Classic midcentury modern design
If you prefer midcentury or Saarinen – inspired style than take a good look. Table will have a marble top and it is the best money can buy. If you don't like marble but still would like to have this style in your dining room you can find similar model that has plastic top. This style is so appreciative because you can use so many colors and so many types of light and it all goes well in this Classic midcentury modern design.